People Don't Have Any Indoor Plants at All!
We spend 90% of out time indoors. Many people spend a lot of time at work. When those workspaces are confined, gray, no windows, no views of nature, no idea whether it's even light or dark outside, your wellbeing suffers. There's no doubt about it, research has proven how damaging this is to your health.
SO PLANTING INDOOR NOT ONLY FEELS GOOD TO YOUR EYES, BUT EVEN CLEANS UP THE AIR AND ADDS UP A FRESH AROMA TO YOUR SPACE.
The key to a fresh and colorful interior décor is to use indoor plants. They instantly change the atmosphere and add that kick your décor needs to stand out and to feel complete. There are lots of ways in which you can include plants into your home's décor and don't all involve the classical vases and pots.
CLASSIC HANGING POTS
Classical hanging planters are also a nice way of decorating your home. Hang them from the ceiling or beams and allow them to showcase all their beauty. Use them as unconventional ways of dividing the spaces and opt for climbers or any other plants that you like
HOW TO :
TAKE 4 PLIES…MAKE A HOLE IN THE MIDDLE OF THE PLIES SMALLER THEN THE POTS BIGGER EDGE…MAKE ADDITIONAL 4 HOLE IN THE CORNER T FIX THE ROPES…
TIE THE ROPES TO A RING AND ONE BY ONE PLACE THE PLIES IN APPROPRIATE POSITION AND TIE THE ROPE UNDERNEATH.
REPEAT THIS STEPS A NUMBER OF TIMES TO GET YOUR HANGING POT CHAIN.
DIY YOUR POT
It's always fun to add a DIY touch to some of your home's decorative pieces. A nice idea would be to make some colorful flower pots or to give the pots a nice dynamic look. You can, for example, take some empty mason jars and paint them into your favorite colors. Use them as planters. Another idea would be to cover the exterior of the planters with orphaned socks. You could also use chalkboard paint to cover the exterior of the planters and to write the name of the plants on them.

BIG BIG PLANTS…
IF YOU HAVE A LOT OF SPACE IN YOUR HOUSE…THEN ALL WHAT YOU NEED TO DO IS ASK YOUR FELLOW MATE TO DRAG UP THAT BIG BIG POT INTO THE HOUSE…KEEP IT IN A CORNER NEAR A WINDOW…TO  LET SUNLIGHT COME UPON IT….WATER IT EVERYDAY A BIT AND IT WILL PROVIDE YOU WITH FRESH AIR, ITS BEAUTY, AND A PLEASANT ATMOSPHERE….
SOME TIPS FOR PLANTATION
 Sun-lovers face north
If you have a plant that thrives on lots of sun, place it on a windowsill facing north or north-east. Check soil moisture levels regularly and inspect the leaves to check they are not being burned. At the slightest sign of withering, move the plant towards the middle of the room.
Keep away from drafts
If you don't want your plant to die of heat or cold, avoid placing it in draughty areas or near ducted heat or air-conditioning outlets.
Do not over water
Water your plants only when the potting mix feels dry to the touch – over watering is often the cause of indoor plant death. Check by pushing your finger into the soil; if it comes out without any trace of soil on it, start watering. Remember that plants may need more frequent watering in summer.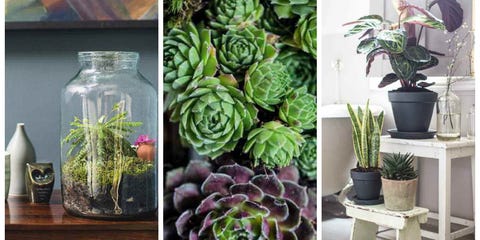 Plants like to be misted
Most indoor plants benefit from an occasional misting of water. Make sure the water is at room temperature and use an atomizer or spray bottle. Misting is particularly beneficial if you live in a centrally heated or air-conditioned house as the air can become very dry.
Apply some fertilizer
Feed your plants with small amounts of fertilizer. The fastest and simplest solution is complete liquid fertilizer in the recommended dose, usually every two to four weeks – check the label.
Position plants carefully
Look for the best place in the house for each plant, and don't be afraid to try different locations until you find the best spot.
CHOOSE YOUR PLANT WISELY
A fool-proof tip for indoor container gardening is selecting your plants wisely.
Pick out a mix of plants in differing shapes, colors, and sizes to create your own garden arrangements.
Choose your favorite vegetables for your container garden, as with limited space you can't afford to waste any space growing something that is not a favorite.
When growing from seeds, determine the best garden performers for your area as tested by local gardeners.
Many vegetable plants can be sown directly from seed, while others may be started as transplants indoors.
Another indoor gardening tip is to be very careful when handling small seedlings, as their roots are very delicate and easily disturbed.
END